Very popular! Chili oil handmade experience 一
Let's make original chili oil in a homely atmosphere (Okinawa
lshigaki island Cooking class)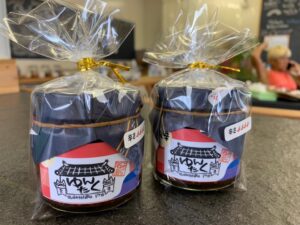 ・One in the world! You can make your own Ishigaijima chili oil
・Customers can choose from about 30 types of ingredients mainly from the island. Pour hot special oil on it and take it home as a souvenir.
・The interior is bright and has a cozy atmosphere. The staff will teach you brightly and politely.
・If you register for My Recipes (free for one year), you can order the island chili oil of your own recipe later.
・There is nothing to prepare! Anyone can feel free to experience it empty-handed.
・You are welcome to join us alone, as well as with friends, family and lovers.
---
PRICE:two bottles of 100ml JPY 2000(including tax)
TIME:approx 30~60 min
★We will keep your created My Recipe for one year.
You can order at a later date from your home. They are also used as gifts.
You can contact us with LINE or phone.
---
How to make Island Chili Oil Sauce
① Throw the ingredients in.
You can choose about 30 types of ingredients and their amount.
If you have any doubts, talk to us.
②Mix them!!
Add hot Yuntaku special oil,
Mix them together.
The oil will make a sizzling sound.
Be careful not to burn yourself while mixing.
You will gradually start to smell the delicious aroma.
③Finally finished.
Fill them into two bottles.
Take them home with your own original label.

---
 Yuntaku master's special "Secret Chili Oil" on sale
We proudly recommends this secret chili oil sauce.
It's filling, spicy, and addictive! It is an addictive blend!
Why don't you try "Secret Chili Oil", a secretly popular sauce?
You also can order it on BASE ! !